Showing results 1 - 2 of 2

Results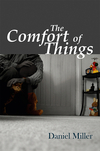 The Comfort of Things
By: Daniel Miller (Professor of Anthropology, UCL)
Paperback, ISBN: 9780745644042, Pub Date US Jul 2009, Pub Date RoW May 2009, Pub Date Aus May 2009
Hardcover, ISBN: 9780745644035, Pub Date US Jul 2008, Pub Date RoW May 2008, Pub Date Aus May 2008
Description: What do we know about ordinary people in our towns and cities, about what really matters to them and how they organize their lives today? This book v...
Full detail
|
Buy Now
|
Order exam copy
Market Society: Markets and Modern Social Theory
By: Don Slater (Goldsmiths College, University of London) and Fran Tonkiss (London School of Economics)
Paperback, ISBN: 9780745620275, Pub Date US Feb 2001, Pub Date RoW Nov 2000, Pub Date Aus Nov 2000
Description: Market Society provides an original and accessible review of changing conceptions of the market in modern social thought. The book considers markets ...
Full detail
|
Buy Now
|
Order exam copy